Unrivaledkitch Wellness
As some of us struggle with body issues, weight loss and finding time to prepare and consume healthy natural foods, Unrivaledkitch Wellness can help to make these arduous tasks occur with ease and grace.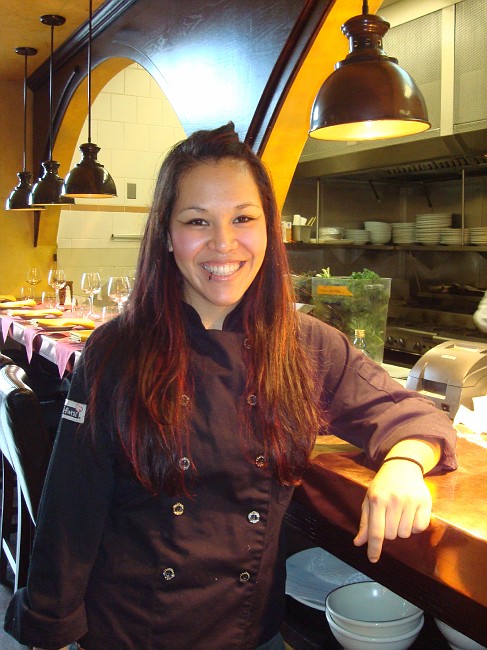 Kimberly's background in food spans over her lifetime. In 2007 she completed a certificate program in culinary arts at Westlake Culinary Institute. Since then, she has climbed the culinary ladder and in 2009 became executive chef of a Northern Italian eatery in Moorpark, CA, all the while continuing her education and self-study in various diets, nutrition and finding new ways to integrate eating well into her life. Since Kimberly's departure from her executive chef lifestyle, she has developed and powered a food blog and personal chef and private dining company, which she calls Unrivaledkitch. Dining and cooking are all portrayed in their own way at
Unrivaledkitch.com
because of Kimberly's constant search for new and exciting food, food trends and ways to share them with everyone.  Kimberly's background in vegan, vegetarian and omnivore diets has allowed her to incorporate sound dietary principles into the everyday lives of her clients, while focusing on abundance rather than restrictions. Unrivaledkitch Wellness focuses on working with each varying body type to keep the spirit whole and the body nourished. For more information on Unrivaledkitch Wellness and for consultations, please contact
Kimberly
.
Meal Delivery
Meal delivery is a perfect way for the busy professional, family or anyone to eat well at home. This option is perfect for people with very busy schedules who have little or no time to cook healthy meals at home. With meals packaged, neatly labeled and arranged in your fridge at the beginning of the week, you'll have the nourishment to face the week ahead with little decision and effort on your part. Reheat meals at your convenience or snack at your leisure without the added pressure or cooking, cleaning and shopping yourself.Meal delivery with a special varying meal for each day of the week.
Menus will be sent out by e-mail or text message every Sunday. Orders must be placed by noon on Wednesdays. Deliveries will be made on the following Sunday evening.
Pre-packaged prepared meals include breakfasts, lunches and dinners, homemade snacks, prepared fruits or vegetable and/or baked goods that focus on your dietary plan. This way of eating is developing a relationship with what you put in your body and the way you feel.
Please inquire at unrivaledkitch@gmail.com for pricing for  customized meal delivery!
Personal Chef Wellness
As part of the Unrivaledkitch Wellness program, Chef Kimberly can come to your home and produce meals for you and/or your family as a fresh and healthy option to dining out or cooking and cleaning. With knowledge of world cuisines, Chef Kimberly will create wonderfully inspired and healthy dishes that everyone is sure to enjoy. Catering to your preferences, taking out the guess work and doing all the shopping, cooking and cleaning for you, Chef Kimberly will finally cut out the difficulty in eating healthy and wholesome by bringing a little more peace of mind to the table.
Personal Chef Rates $175    3 Hours In-Home Kitchen Work
Additional time at a rate of $50 per hour
Note: Does not include the cost of groceries or personal grocery shopping
You are welcome to purchase the ingredients yourself for us to prepare or we can shop for you for an additional fee of $30 for one store and $15 per store/ farmers market after the first.
Personal Grocery Shopper
Grocery shopping takes lots of time, money and effort with our already extremely busy lives. Sometimes just getting to the grocery store is our biggest obstacle to eating healthy.  Chef Kimberly can help aid in the tedious grocery shopping task by making weekly or bi-weekly shopping trips for you and/or your family. With a great variety of markets in her local area and her constant pursuit to find new interesting food resources, Chef Kimberly has access to the world's various ingredients, local farmers' markets, fresh fish and quality meats and cheeses that your local store may not be able to offer. As your home is ready for the week, you'll have quality ingredients, which are the most important part of a fantastic healthy meal. Your groceries are picked with the highest quality in mind and you and/or your family's preferences all included in your pre-made shopping list.
Fees include delivery, mileage and shopping time
Fees do not include the cost of groceries
Payment must be received upon delivery
Personal grocery shopping fees are as follows:
$55 plus the cost of groceries for one Grocery Store/ Farmers Market and an additional $30 per grocery store/ farmers market if necessary.
Please
contact
Chef Kimberly for shopping lists and delivery dates. Chef Kimberly looks forward to acquainting you with your own Unrivaledkitch!
YogaDinner
This combination wellness package brings together the best of both of Kimberly Fujitaki's talents: Cooking and Yoga. With the dinner and yoga combo, we'll stretch, breathe, connect deeply and have a delectable dinner on the table in the comforts of your own home.  Kimberly will arrive at your home at the scheduled time for your yoga session and after she will use your kitchen to create a deliciously healthy and hearty meal for you to consume. Yoga and dinner is a perfect way to nourish your whole body. A ladies' night out or date night can be transformed into a magical evening of union and fare—nourishing from the inside out.
Please contact Kimberly to reserve your YogaDinner date YogaDinner Date Night 1 hour restorative yin yoga practice
2-course meal: appetizer and entrée
$300 for two people*
YogaDinner for three or more
1 hour restorative yin yoga practice
2-course meal: appetizer and entrée
$150 per person after 2*
*Price may vary upon menu customization
For additional information on any Unrivaledkitch Wellness Services, Catering, Private Dining, or Cooking Classes please contact Kimberly by phone 818 2311293 or by e-mail at Unrivaledkitch@gmail.com.
For additional information on Private, Semi-Private, Kids, Teens, Seniors, and/or Adult Yoga please visit www.kimberlyfujitakiyoga.com Or e-mail Kimberly at yoga@kimberlyfujitakiyoga.com
Thank You!
Everything included in this Blog is mine unless otherwise noted.
Respect that…Ask permission before taking anything.
Images, text, and all content are unless expressed otherwise the property of
Copyright © 2010-2017 Kimberly Fujitaki, Unrivaledkitch, and Unrivaledkitch Wellness
All Rights Reserved
Any e-mail, comments, or questions about or concerning blogging, catering, private dining or meal planning in the Greater Los Angeles and Ventura County areas please contact me at Unrivaledkitch@gmail.com