North Hollywood is an up-and-coming area with a little strip of Lankershim Blvd. adding its artsy vibe to an otherwise forgettable area. I work with Lankershim Elementary School teaching preschool yoga, so every now and then, I like to look for new places for coffee or lunch. One afternoon, after Brandon and I walked around the Studio City farmers' market, we decided that after all that walking we would head over to Summer Canteen for a late lunch. Since Summer Canteen is located in the same area of North Hollywood that Republic of Pie is, we headed over there to pick up some pie. My sister has been wanting a good slice of pie for a while now, so I decided to pick a couple of pieces up and check the place out.
Republic of Pie is a lovely little cafe that's both quaint and stylish. The décor is antique and precious with a stage for coffee house open mic night and couches for comfortable hanging out sessions with friends or your newest novel. The pastry cases offer a variety of styles of savory and sweet pies as well as other delicious baked goods like homemade oreos, lemon bars, vegan energy bars and much more. We looked over the pies and decided on blackberry peach pie and banana cream. I also took a lemon bar to go as well. The pies came out perfectly packed and expertly sliced.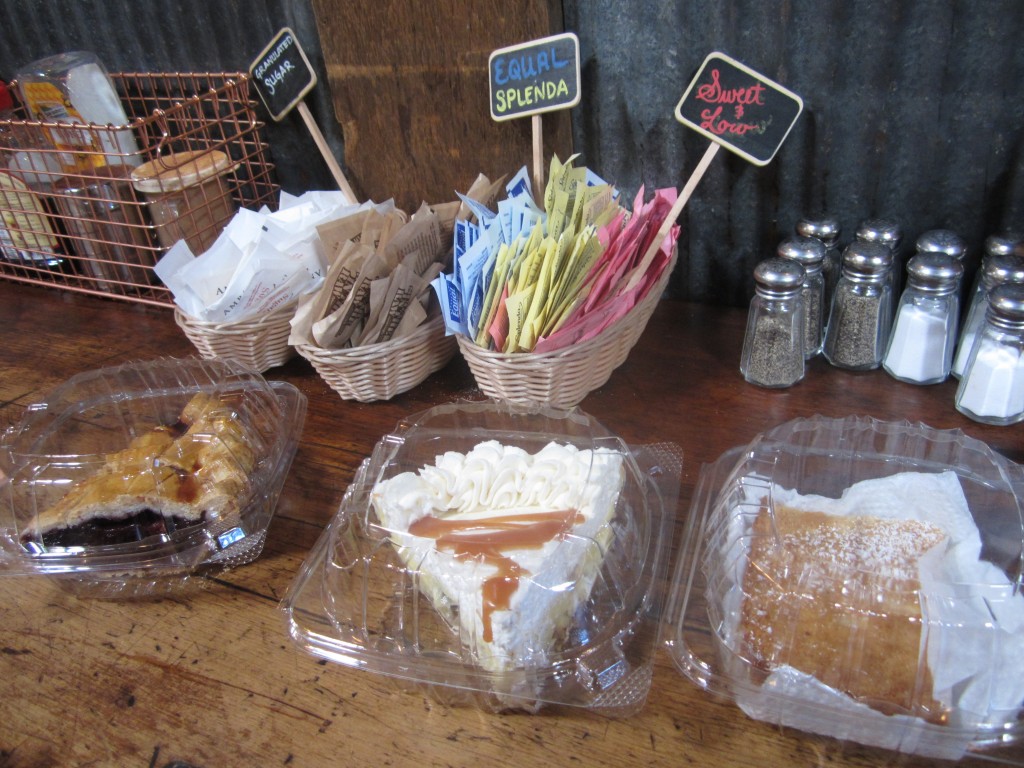 Along with your pie, they have a full line of espresso drinks and teas for your enjoyment. Both pies were delicious. The blackberry was extremely fresh and the pie crust was perfectly golden and crisp. The banana cream was layered with cream, banana pudding and a layer of sweet brown sugar crumble; it was very rich and decadent. The lemon bar was good. But for my taste, I enjoy them to be a bit more tart than sweet. Overall, the whole place was cute and welcoming and the pie was fantastic. You can take a look at the bakers in the baking room making all the delicious goodies by hand.
cheers
-Unrivaledkitch