Happy New Year! Already 12 days in and I'm still feeling the freshness of the new year and all that it has in store for us. 2014 was a great year, lots of amazing opportunities and growth that I look forward to carrying over into 2015. The year began as it should, and has for the last 5 or more years, with Osechi Ryori in my family's traditional and not too traditional Japanese-style. For us, this is a gathering of love, health, togetherness and family and I hope to always be able to share this time with my family and friends.
The start of the year is a great time for new beginnings, but we can also be reminded that each moment holds a new beginning for all of us, if we so choose to take it. I wish all of you a very happy and healthy 2015! Here are the dishes I prepared for New Year's Day Oshogatsu and Osechi Ryori.
Here are 2011, 2012, 2013 and 2014
Menu
Char Siu-Style Sliced Pork
Japanese Korokke
Sweet Asian Fried Chicken Wings
Tuna Sashimi
Umeboshi
Tsukemono
Pork Wontons
Bachan Jello
Inari
Kinpira (sato shoyu gobo and carrots)
Tazukri (candied, dried sardines)
Kamaboko (pink and white Japanese pressed fish cake)
Namasu (pickled carrots and daikon)
5-Sided Carrot, 5-Sided Daikon, Kombu (rolled seaweed), Shiitake Mushrooms, Satoimo(taro root), Renkon (lotus root), Takenoko (bamboo shoots)
Ozoni (New Year Japanese Soup) (Kombu, Carrot, Kamaboko, Daikon, Imo [taro root], Renkon [lotus root], and Mochi in Seasoned Homemade Dashi)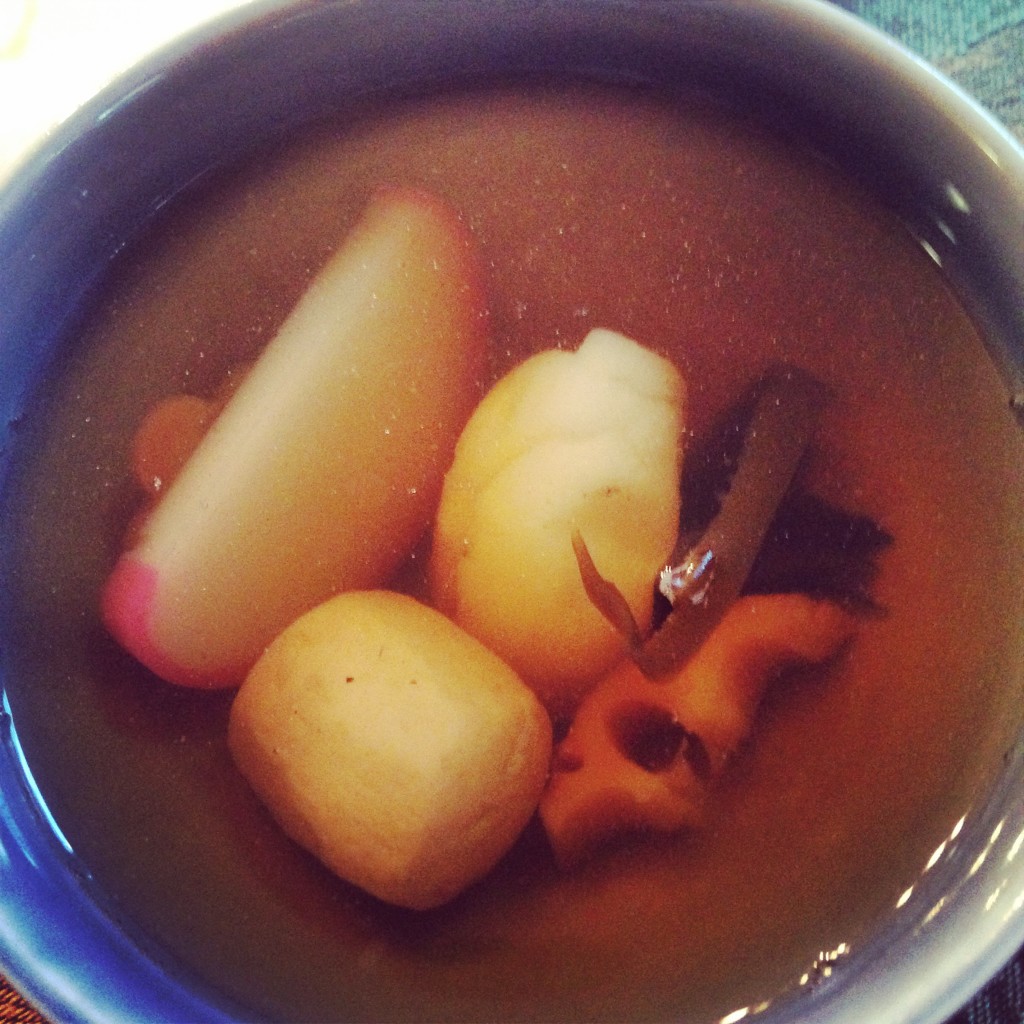 I'm always so excited and happy to be able to prepare this beautiful meal for my family. Though it changes a bit each year, the tradition still lies in the togetherness we share with our family and the traditions we pass down to my nieces.
Love, Peace and Gratitude.
Cheers!
-Unrivaledkitch