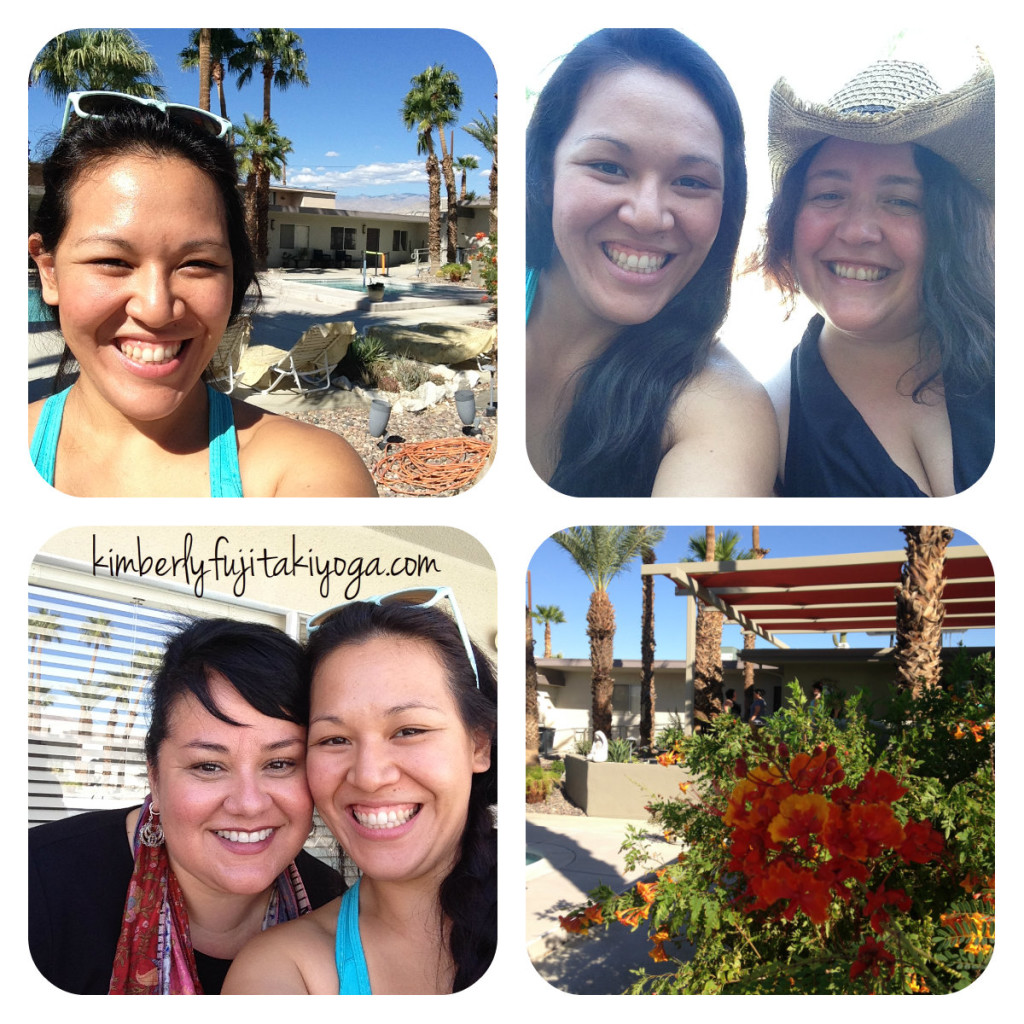 I've had a few weeks to reflect and enjoy the memories and events that took place  during our Beautiful Bountiful Body Retreat from Judgement at Lido Palms in Desert Hot Springs. This week has been such a busy week of staying in the moment, being present to the flow of opportunity and really being intentional and authentic in my actions and words. I'm truly blessed to be exploring such amazing opportunities in my career and life.
I managed to wear my yoga pants and chef coat at the same time. This has been a dream of mine since I stepped away from the professional kitchen and onto the yoga mat full-time. My love of culinary arts will never leave me, nor does it have to. I am at home in the kitchen, just as I am on my yoga mat, which feels like a tremendous honor and privilege to be able to express my passion for union through culinary arts, asana, pranayama, meditation and mindfulness.
When the amazingly talented Thea Pueschel (artist of living, body positive yoga instructor and hypnotherapist) asked me to venture out into the desert to look at the venue where we would be holding the yoga retreat, I honestly didn't know what was going to happen. From walking around the space and seeing the rooms, I knew that I would be able to make amazing meals there because if there is one thing you learn from working in a professional kitchen, it's that you don't need much to make a great meal. I've cooked using camp fires, tin cans, hot plates, 20-burner ranges, expensive gas ranges and electric stove tops, but the thing is, they all can be used in ways that produce amazing food.
So we took a gamble. After we drove a few hours away, we talked it over and agreed that we should give it a go. Thea made the big moves and put herself out there with the intention and desire to be of service and that's just what she did. Just a few short months later and we were one room from being sold out! It was an amazing showing of how perseverance and hard work truly pay off.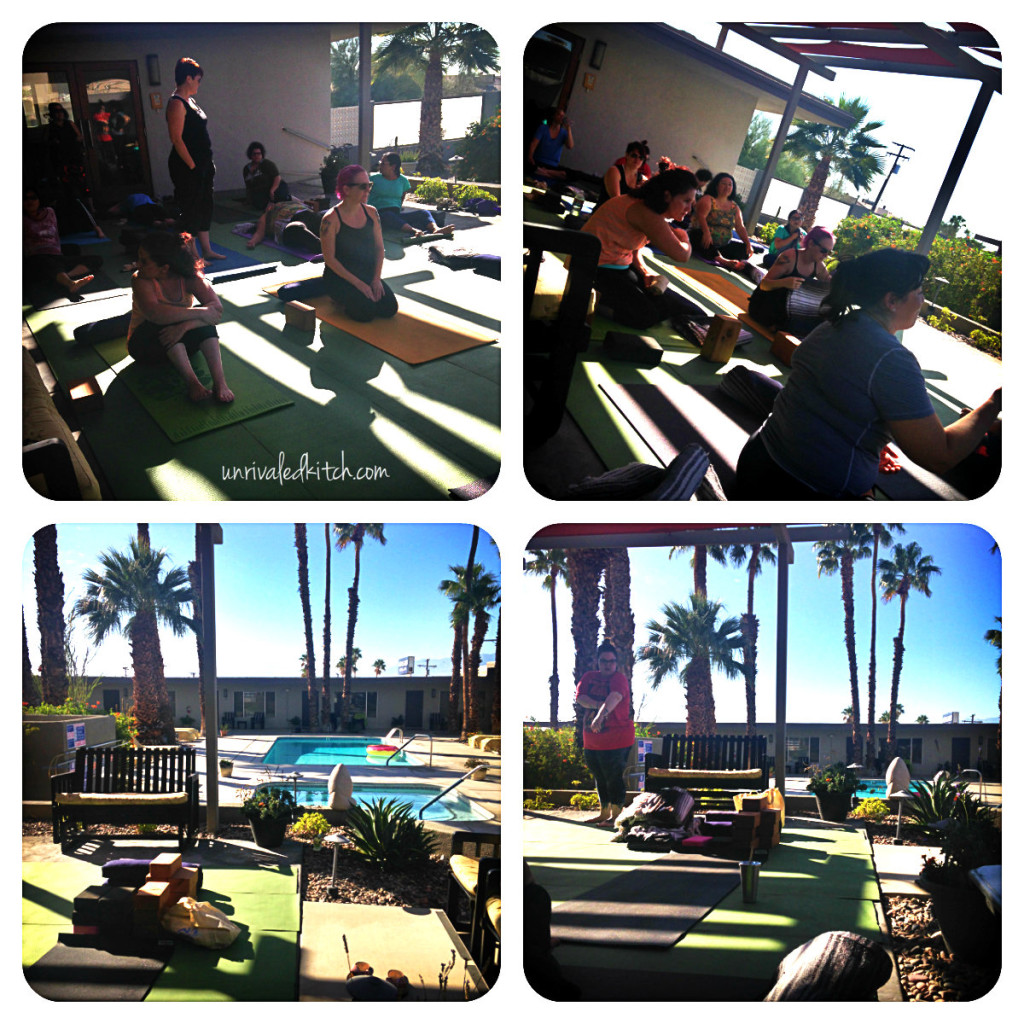 The healing mineral water pools and warm desert climate made for the perfect October evenings. Thea offered insightful workshops and yoga sessions, including her signature detox to retox, yoga nidra and gentle practices to soothe and aid the body in compassionate, body positive and deeply connected practices. She also acquired the amazing reiki skills and compassionate body positivity of Adriana Franco, who conducted mini reiki sessions with all of the attendees and offered her graceful wisdom and heart felt conversation and connection with us all. Women from all over joined us and truly met themselves on the mat as they were, with open hearts and open minds. This was truly a retreat from judgement and a gathering of powerful intention to love ourselves deeply and practice self-care.
My menus were designed with many things in mind. Even with dietary restrictions, we all cared and nourished our bodies in abundance, which is what Unrivaledkitch is all about. We are more than the things we aren't and that is what we have to focus on. Many of us seem to highlight the things we can't do or things we don't do, instead of celebrating the things we can do and will do, and for me, this goes for food as well. Whether you can or can't eat something, I always strive to find accommodations for people to nourish their soul and I truly felt that this was accomplished. The menu was a plant-based seasonal vegetarian meal with a variety of vegan options. Here are the menus I created for this special Unrivaledkitch event for the Beautiful Bountiful Body Retreat.
Beautiful Bountiful Body Retreat
Special Fall Menu Prepared by
Chef Kimberly Fujitaki of Unrivaledkitch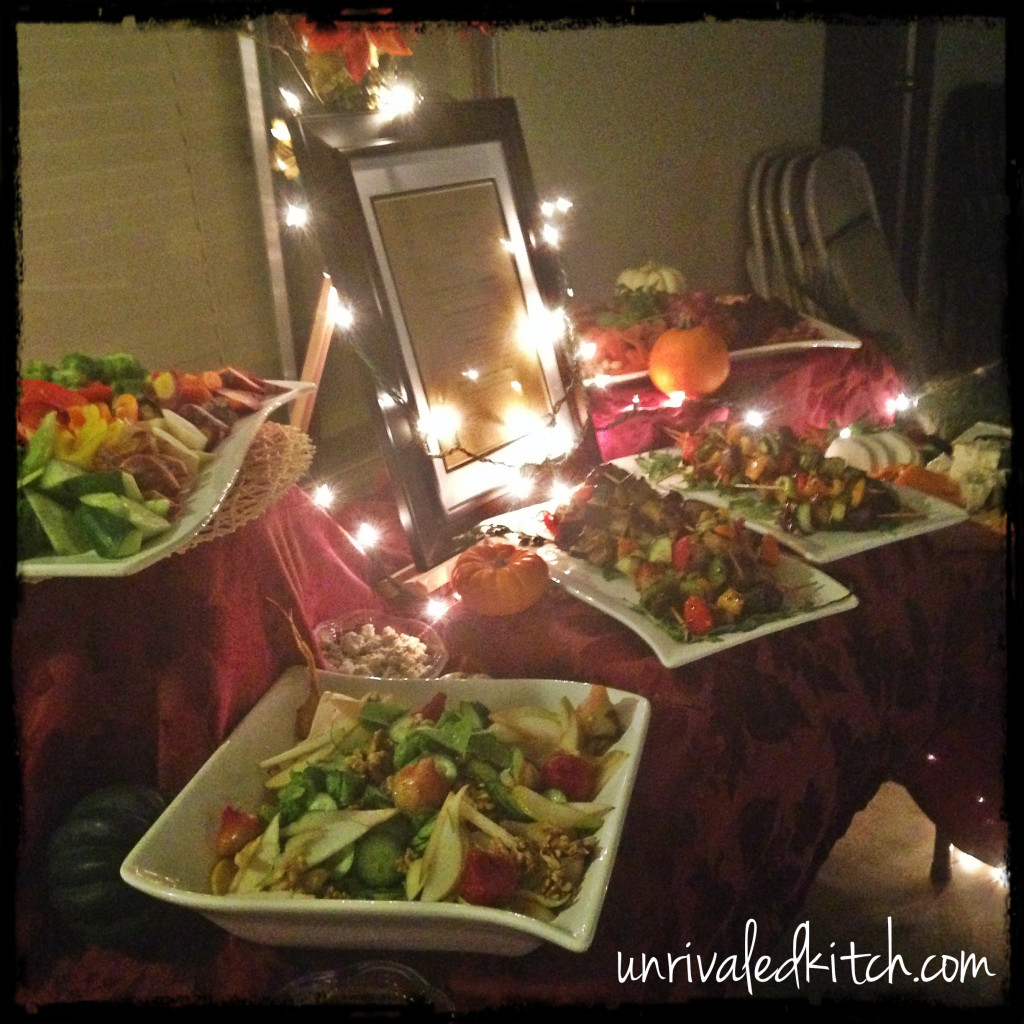 Welcome Dinner
Cheese Plate
Vegetarian Honey Goat Cheese, Red Leichester, Pere Brie and Gorgonzola
Crudite Platter of Raw Seasonal Organic Vegetables
(Vegetarian, Legume-Free & Grain-Free)
Fresh Organic Heirloom Tomato, Basil & Garlic Flatbread BBQ Pizza
with Buffalo Mozzarella Cheese and Parmesan
(Vegetarian includes Grain and Dairy & No Cheese Option)
Grilled Mediterranean Vegetable Skewers
with Oregano, Basil and Red Pepper Flakes
(Mushrooms, Bell Peppers, Eggplant, Zucchini)
(Vegan, Gluten-Free, Dairy-Free, Legume-Free & Grain-Free)
Autumn Pear Salad
Organic Living Lettuce with Balsamic Vinaigrette
Shaved Pear, Walnuts, Pink Beets and Cucumbers
(Crumbled Blue Cheese on the Side Vegetarian Option)
(No Cheese Vegan, Legume-Free & Grain-Free )
Grilled Fall Fruits with Whipped Cream & Cinnamon
Pears, Persimmons, and Apples
(Whipped Cream on the Side Dairy-Free Option)
---
Beautiful Bountiful Body Retreat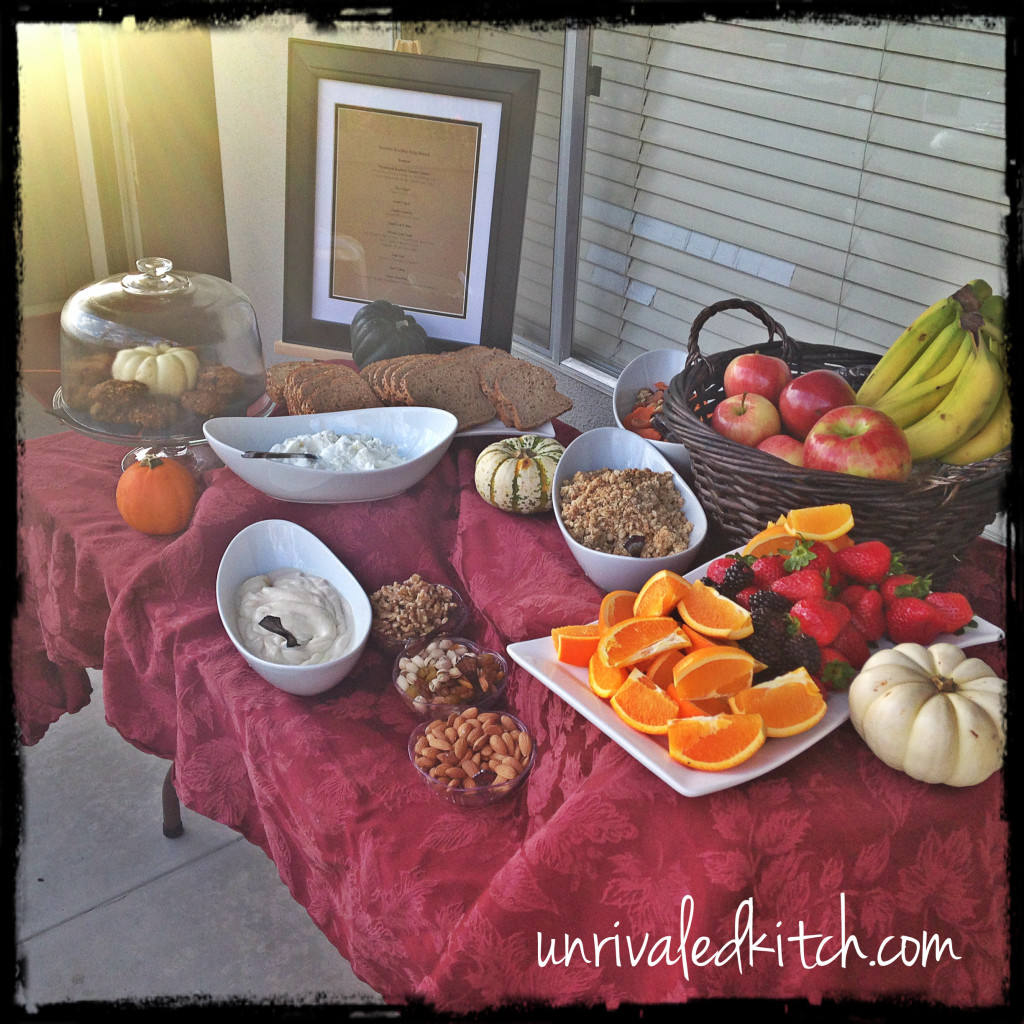 Breakfast
Homemade Breakfast Pumpkin Cookies
with Pepitas, Raisins, Cranberries and Whole oats
(Vegan Dairy-Free includes Wheat and Oats)
Soy Yogurt
(Vegan includes soy)
Greek Yogurt
Vanilla Granola
(Contains Wheat and Oats)
Dried Fruit & Nuts
Whole Grain Toast
with Organic Peanut Butter, Almond Butter, Peach Jam
and Organic Mixed Fruit Jam
(Includes Wheat and Oats)
Fresh Fruit
(Bananas, Oranges, & Apples)
Tea/Coffee
Green Smoothies
(Kale, Ginger, Apples, Strawberries, Oranges, Banana & Spinach)
---
Beautiful Bountiful Body Retreat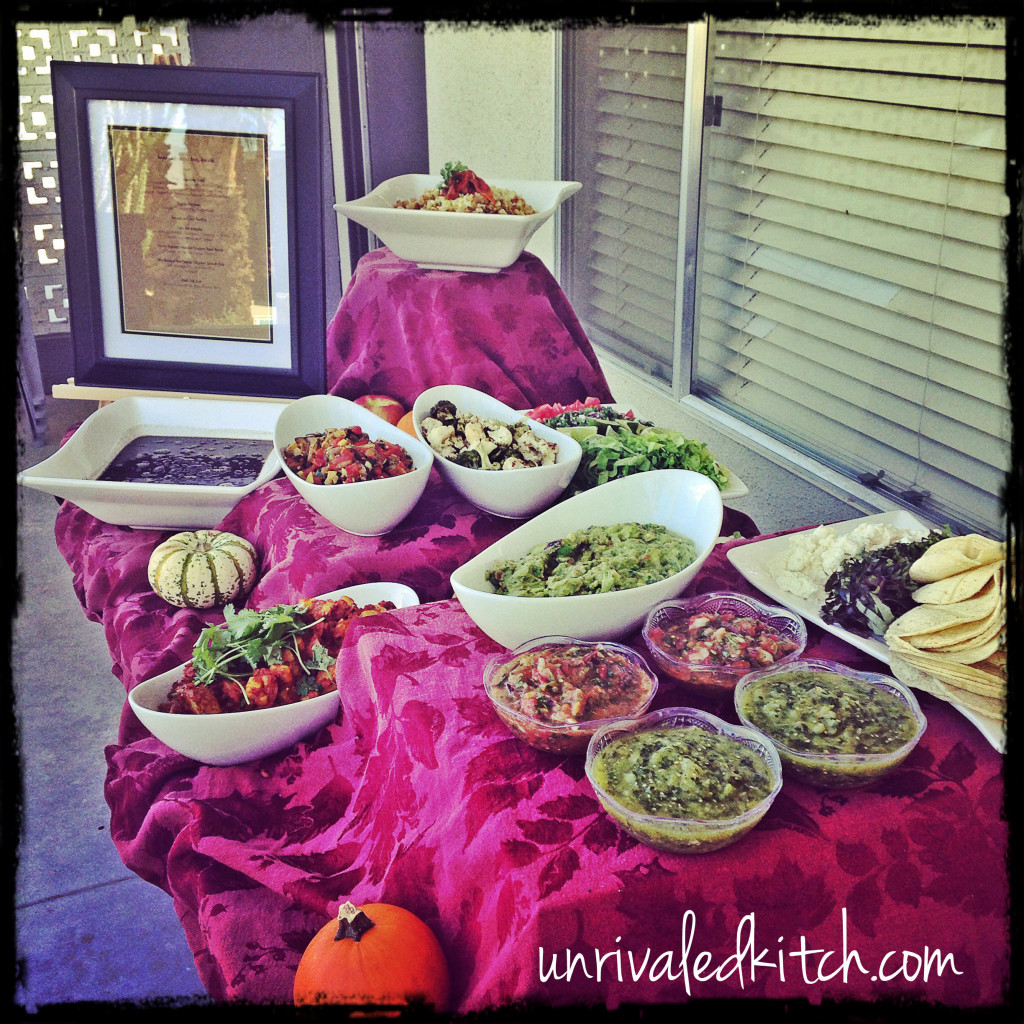 Lunch
Grilled Vegetable Tacos
Assorted Chopped Grilled Veggies spiced with Cumin and Coriander
Zucchini, Peppers, Squash, Broccoli & Cauliflower
(Vegan, Gluten-Free, Dairy-Free, Legume-Free & Grain-Free)
Soyrizo Potatoes
(Vegan, Contains Soy, Gluten-Free)
Served on Corn Tortillas
Taco Bar Includes
Pico de Gallo, Roasted Jalapenos, Cilantro and Onions,
Lettuce, Guacamole and Cheese
Cumin-Scented Mashed Organic Black Beans
(Cheese on the Side Vegan Option)
Fire-Roasted Red Pepper Organic Spanish Rice
with Roasted Corn and Tomatillos
(Vegan)
Fresh Fall Fruits
Pomegranates, Persimmons, Apples, Pears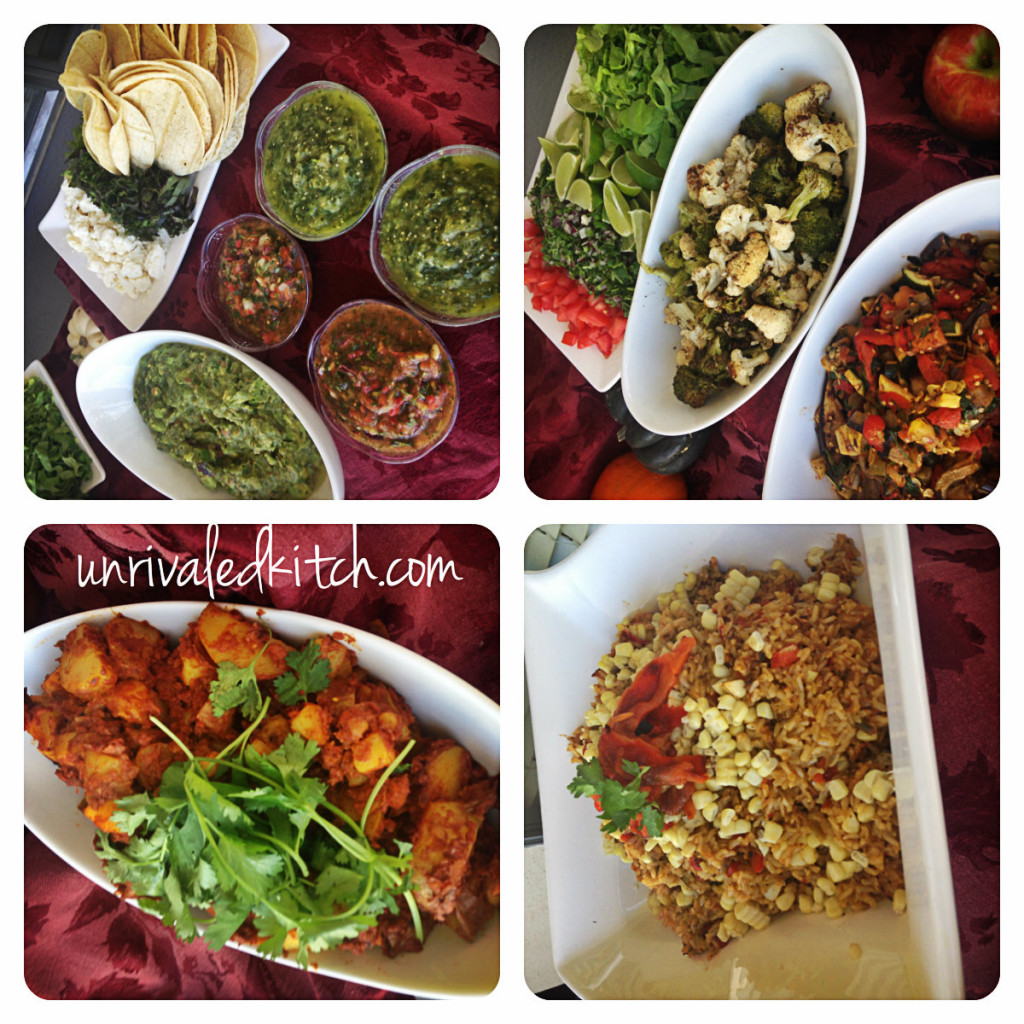 ---
Beautiful Bountiful Body Retreat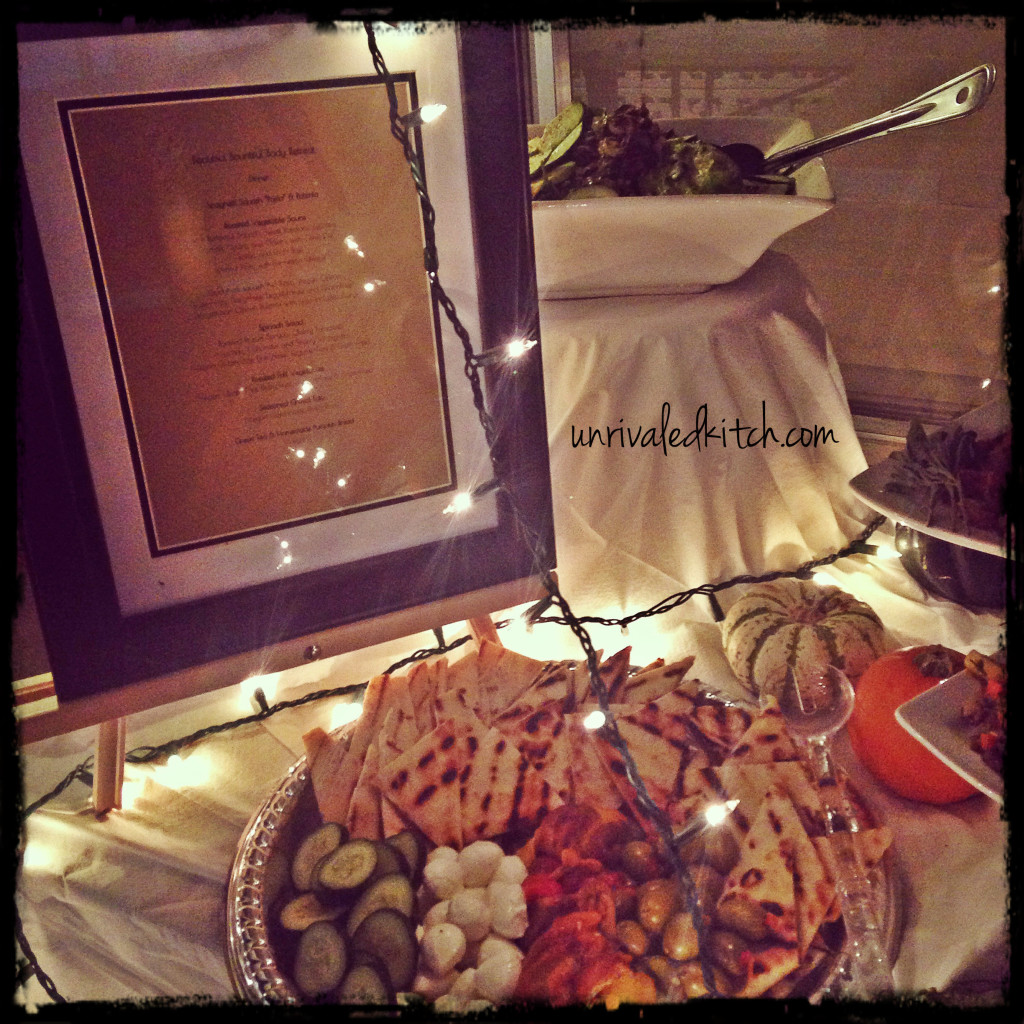 Dinner
Spaghetti Squash "Pasta" & Polenta
Roasted Vegetable Sauce
with Butternut Squash, Sweet Potatoes, Zucchini,
Carrots, Celery and Onions with Olive Oil,
Garlic, and Fresh Basil
Walnut Pesto with Parmesan Cheese
(Spaghetti squash, No Pesto Vegan Option
Gluten-Free, Dairy-Free, Legume-Free and Grain-Free)
(Vegetarian Option Polenta with Pesto includes Dairy)
Spinach Salad
Roasted Brussel Sprouts, Cherry Tomatoes,
Avocado, Cucumber and Sherry Vinaigrette
(Vegan Gluten-Free, Dairy-Free, Legume-Free & Grain-Free)
Roasted Fall Vegetables
(Vegan Gluten-Free, Dairy-Free, Legume-Free & Grain-Free)
Seasoned Grilled Tofu
(Vegan Gluten-Free, Dairy-Free)
Green Tea & Homemade Pumpkin Bread
(Vegan)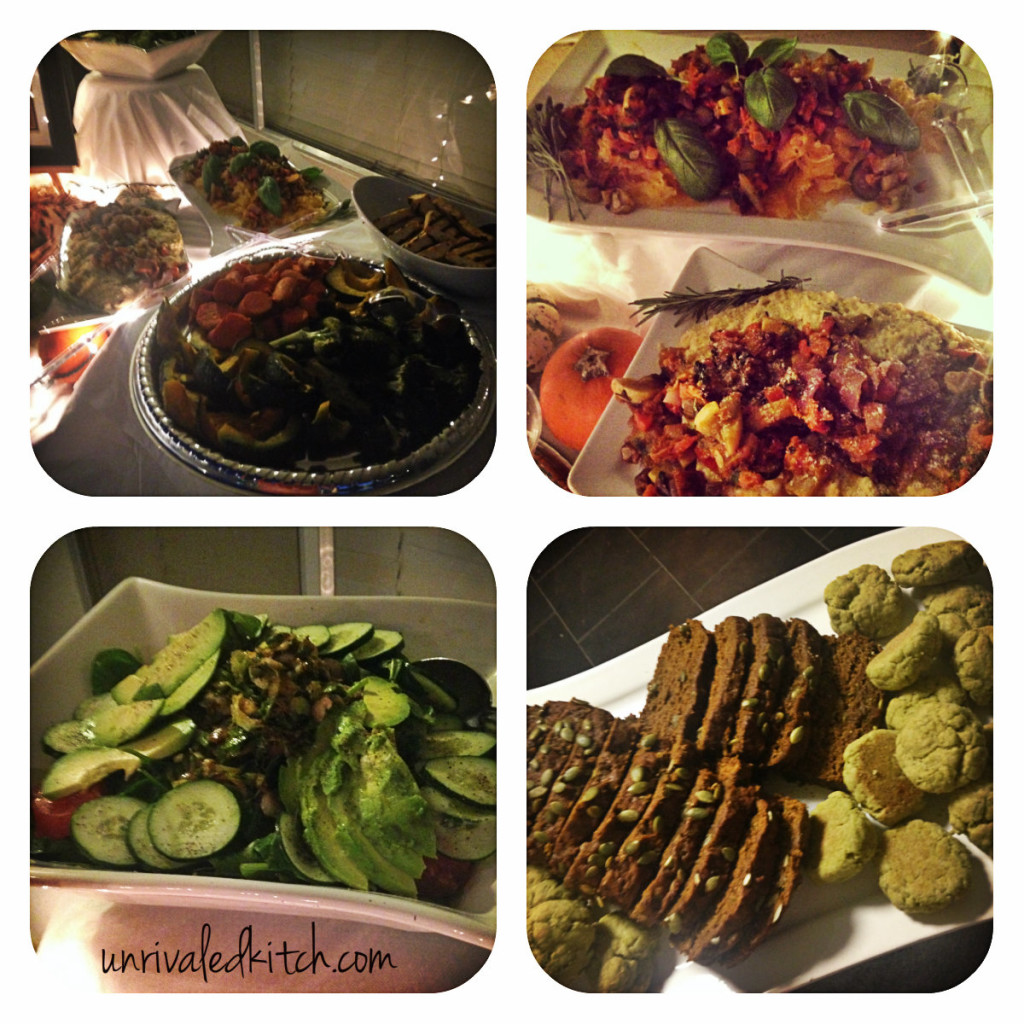 ---
Beautiful Bountiful Body Retreat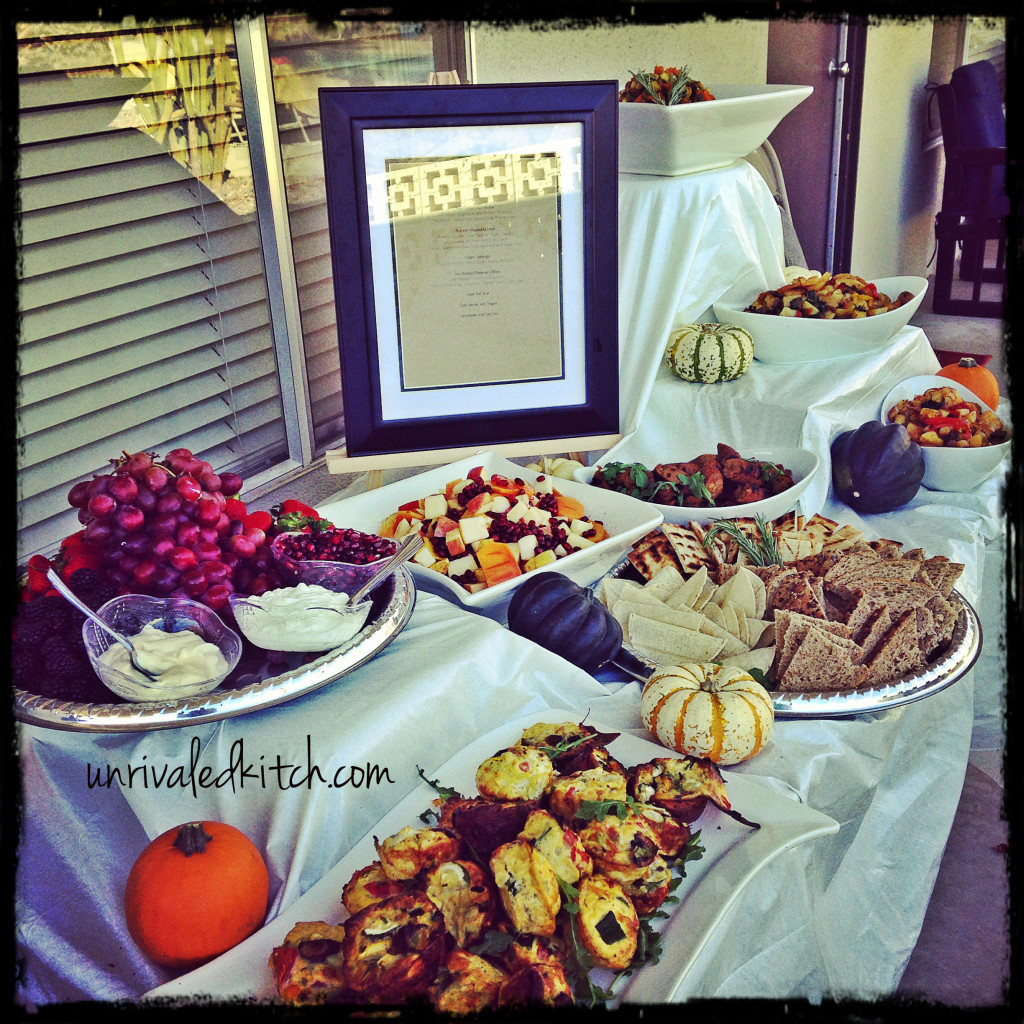 Brunch
Mini Vegetable Frittatas
with Mixed Vegetables and Roasted Jalapenos
(Vegetarian, Gluten-Free, Legume-Free & Grain-Free)
Autumn Vegetable Hash
Butternut Squash, Sweet Potatoes, Acorn Squash,
and Zucchini with Fresh Herbs and Spices
(Vegan, Gluten-Free, Dairy-Free, Legume-Free & Grain-Free)
Vegan Sausage
(Vegan includes Grain, Gluten, Barley, Red wine)
Fire-Roasted Potatoes O'Brien
with Peppers, Onions and Spinach
(Vegan, Gluten-Free, Dairy-Free, Legume-Free & Grain-Free)
Fresh Fall Fruits
Fresh Berries with Yogurt
Lemonade and Iced Tea
---
I was also privileged to teach my signature Deeply Rejuvenated Restorative Yoga practice. Restorative Yoga is such an important practice for self-discovery and self-study. We learn from stillness that our body can gain a tremendous benefit from slowing down, resetting our nervous system and replenishing the oxygen supply in the blood.  Under the beautiful star-filled sky, we offered out our intentions and connected with the inner authenticity as we breathed and let go deeply. This was truly one of the highlights of my yoga teaching thus far and I was truly privileged to teach such an amazing group of empowered women, relaxing and leaving the practice deeply rejuvenated.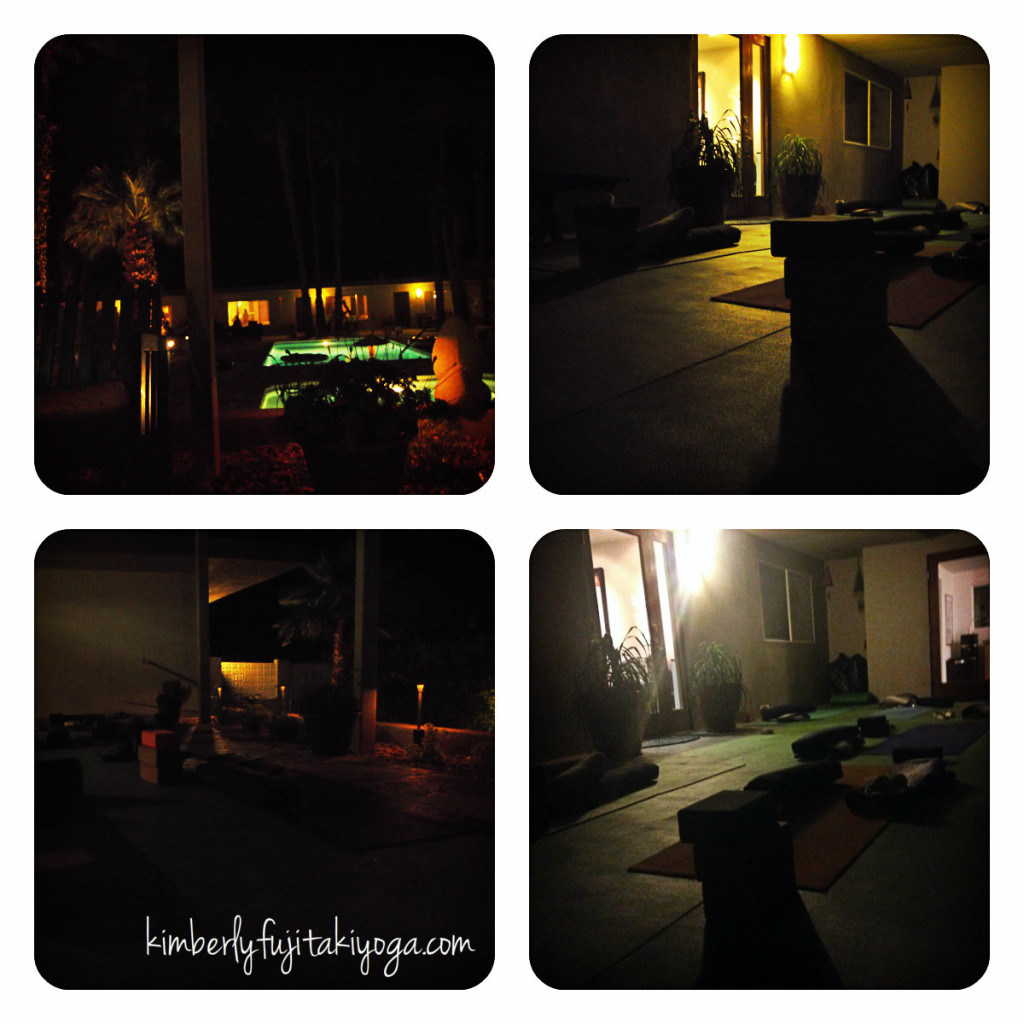 The weekend ended with laughing, tears, joy, and for me, a sense of accomplishment, hard work paying off and extreme gratitude for this opportunity to blend my two favorite things in the whole world. I shopped, catered, packed, cooked, cleaned and repeated these steps many times throughout the weekend and I know I will do it again. I am truly humbled by this amazing experience and I hope you'll join us on our next yoga retreat.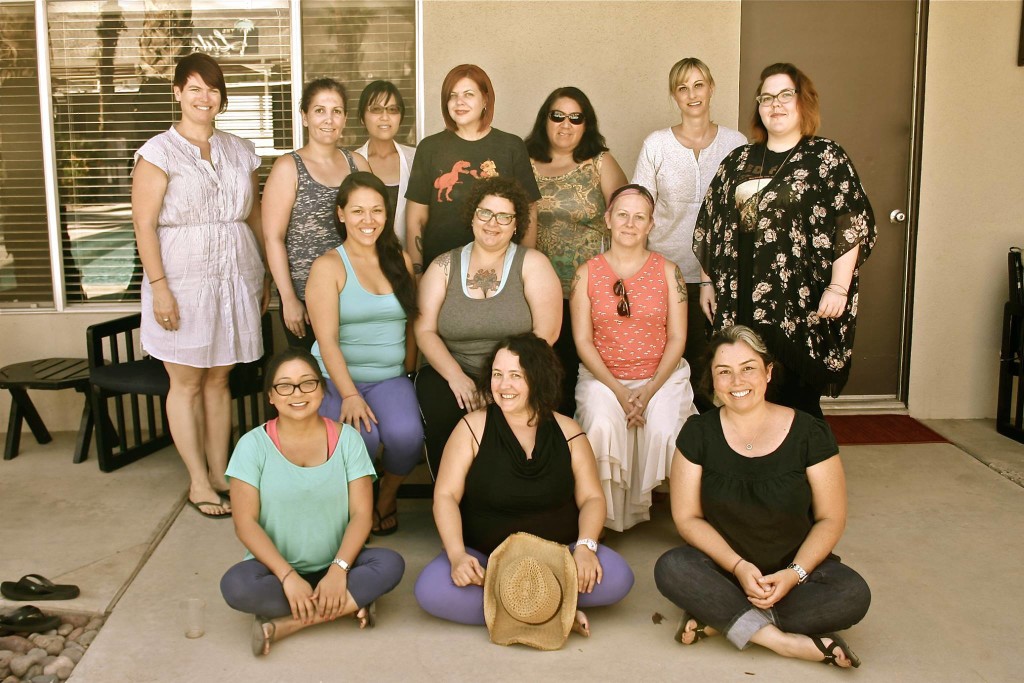 Photo by Adriana Franco
I want to thank all of the wonderful ladies who came to practice in the desert with us for a retreat from judgement. And of course, an extra special thank you to the amazing Thea Pueschel for bringing me along on this wonderful journey.
Namaste!
Kimberly Fujitaki
Executive Chef/ Owner
www.unrivaledkitch.com
Yoga Instructor
www.kimberlyfujitakiyoga.com