The year flew by and I hope each and everyone of you had a great set of holidays. I'll be catching up on my blogging in the next week so please stay tuned.  Thank you for your support and a healthy and happy 2013 to you all from my Unrivaledkitch to yours!
I've been working on tamales every year around Christmas time for about five years. Tamales are a very traditional Mexican/Spanish dish that involves masa, which is dried corn mixed with fat, broth and spices, filled with meat, sauce and/or cheese and are made in corn husks and then steamed. This year I made around 400 tamales for various family and friends. It was a long process, but very fulfilling. This year I made numerous types ranging from roasted green chile and cheese tamales, tomatillo and roasted chicken, salsa Roja and roasted pork to salsa verde and beef. The process takes many hours of hard work and lots of love, which is why I always love the tradition of making tamales. The broth takes time to develop all the delicious flavors and the ratio of meat to masa is always something that can be worked on.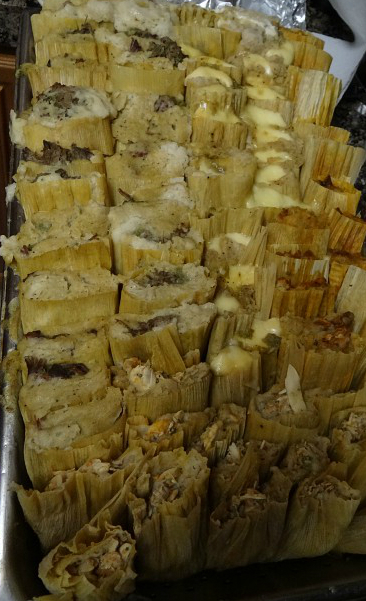 I also made pozole for my family for Christmas morning, both chicken and pork. Pozole is a delicious soup that's made of roasted and slow-simmered parts of pork or chicken and is made with simmered chiles and Mexican corn or hominy. The soup is topped with fresh cabbage, cilantro, green onions, Mexican organo and some red pepper flakes to taste. Everyone always enjoys putting their favorite toppings on their Pozole. It's something that we all look forward to eating on Christmas morning before we open our presents.
Christmas was a wonderful holiday for our family. Maleeya really did score with Santa—she must have been a really good girl this year. We all can't wait for next year to see what is in store for us all. I've been increasing the number of tamales I make by at least 100 each year, so we'll see what happens in 2013.
I hope you developed some delicious holiday traditions with your family this holiday season.
Happy Holidays to each and every one of you!
Thank you so much for supporting Unrivaledkitch!
Cheers
-Unrivaledkitch