Better Late than never….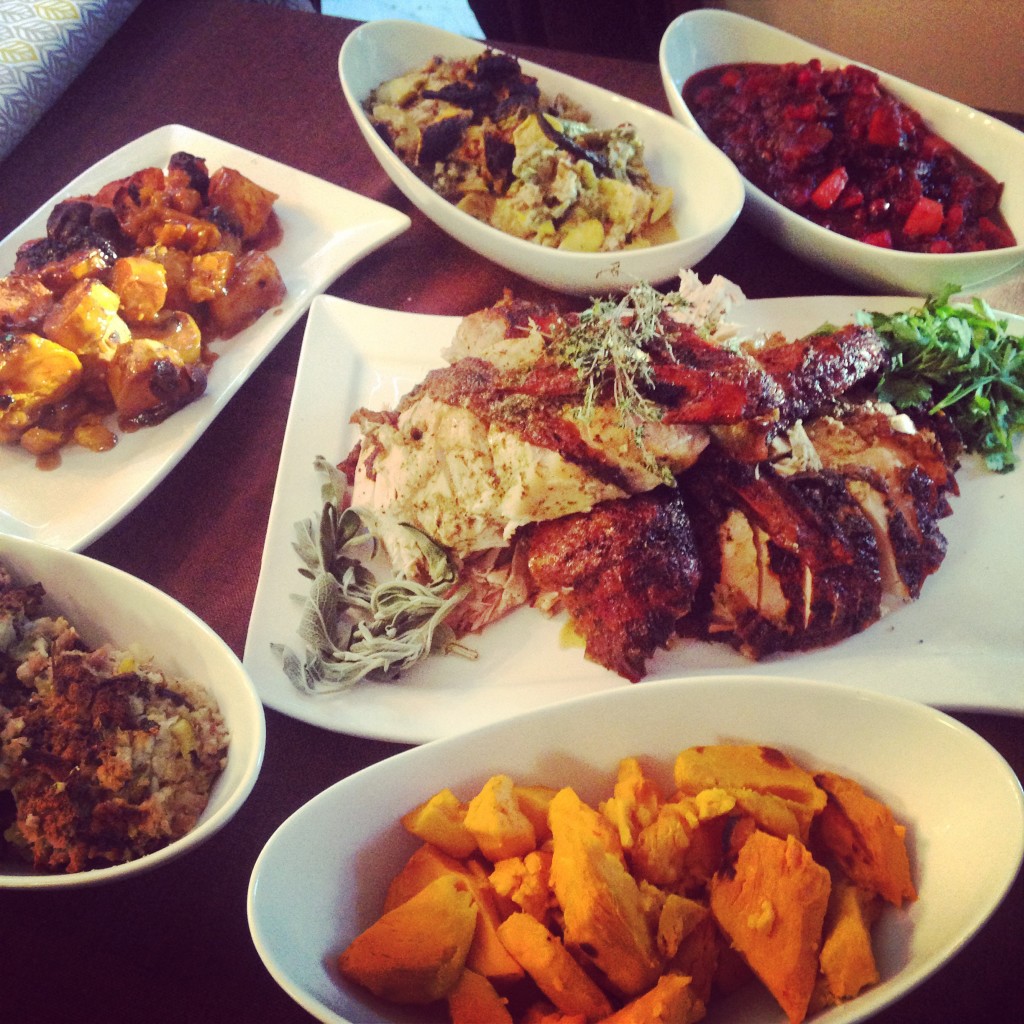 I love Thanksgiving! It is truly my favorite meal to make of the year, not because we have the same traditional things, but because it's tradition to be together with my family. I am so glad we get to keep this tradition alive and thriving with my nieces. This Thanksgiving was also my brother's birthday, so it was an extra-special occasion.
My sister and I braved the grocery stores on Wednesday morning so I could get all the ingredients for a meal that pretty much fed us for what seemed like a week, but that's the best part of Thanksgiving–cook for a day or two and then either just reheat and eat or think of something else to do with the rest. I'm glad my sister came with me to the grocery store because I really dislike having a cart and having to maneuver one when the stores are super crowded, so she took care of that for me, which was a great help! Thanks, Keek.
So after a few stops and various places with enough groceries to just pack the fridge almost to explosion, I had a good idea of what we were going to enjoy. I'm not the type of person to ponder the menu a month or even a week in advance, I just looked at the ingredients and made things, which is my favorite way to cook. I'm grateful I have a family that pretty much let's me have full reign over what we eat for Thanksgiving, trusting and knowing I'll make those traditional dishes that they like each year while incorporating some new ones.
So here it is, Thanksgiving 2014 from Unrivaledkitch. I hope your families and friends feasted over great food, good company and tons of togetherness and gratitude. I'm grateful for all of you who take a gander at my food musings, for all the support, and I wish you a very happy holiday season.
Here are the past 4 years of Thanksgivings documented on Unrivaledkitch.com I love that these memories are here for me to look back on.
Thanksgiving 2014 Menu
Celery Root Soup with Spicy Sausage, Crispy Pancetta and Roasted Brussels Sprouts
Herb and Citrus Brined Turkey with Roasted Vegetable Turkey Gravy
Celery, Scallion, Olive, and Zucchini Turkey Stuffing
Mashed Potatoes
Candied Yams with Bruleed Marshmallow
Green Bean Casserole with Fried Onions
Roasted Asparagus
Roasted Mushroom Medley with Fresh Thyme and Garlic
Red Potato Gratin with Button Mushrooms, Roasted Leeks, Kale and Parmesan Mozzarella Bechamel
Granny Smith Apple,Green Anjou Pear and Melted Date Cranberry Sauce
Crookneck Yellow Zucchini, White Zucchini and Green Bean Casserole with Celery Root Cream and Sausage
Hot Pumpkin Bread Pudding with Raisins and Granny Smith Apples with Brown Sugar Caramel Cream Sauce, Vanilla Bean Ice Cream and Whipped Cream
Mom, Dad and Grandma's Contributions
Honey Baked Spiral Ham
Deviled Eggs
Spinach Dip, Pimento Cheese, Green Onion Dip and Vegetable Platter and Crackers
Bachan Jello
Pumpkin Pie
Carrot and Banana Muffins
What a delicious feast! Thank you everyone for sharing in this gratitude filled holiday.
Cheers
Unrivaledkitch